Frequently Asked Questions (FAQ)
Google Chrome sometimes complains about installing apps from "unknown sources". As you are downloading our app from this website (and not the PlayStore) it is considered unsfe.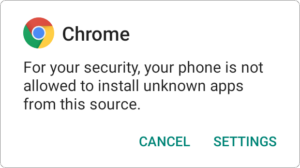 You can bypass this warning by taping "Settings" and enabling the installation.
If you are looking for the old version of AutoForward SMS for Android, you may visit this link. Please note, that only the latest release (version 1.2) of our old app is still functional. Older releases, such as 1.1.65 or below, do no longer work.
Please view the dedicated page for this function here
There are many websites where you can test your Fwd To URL settings to make sure the app and your parameters are working. Our favourite testing site is: https://webhook.site
Simply copy the test URL from WebhookSite and paste into AutoForward SMS and/or POST to URL box and SAVE. Then send a text message to that phone, then go back to WebhookSite and you should see the test POST. When you're done, remove the test URL from AutoForward SMS and replace with your own URL.
Let us know if you need help with this.
Payment, Subscriptions & Refunds
No, spying on someone else's communication is almost certainly illegal. Our app is meant to forward messages from your mobile phone to email/Slack or an API/URL endpoint.
No, to install our app you need to be able to physically access the phone you want to forward from.